Bookkeeping Services
St. Catharines Financial Planner/ Advisor
Bookkeeping
We provide general bookkeeping and preparation of monthly financial reports and reviews.
The Problem
Small and medium sized businesses are challenged by accounting process that require too many manual steps, take too much of valuable time and produce too much paper work. This leads to lack of accurate and timely financial reports.
How We Help
We take care of record keeping and provide timely and accurate reporting so that you know where you stand financially and can spend more time working on your business. We will help you save time and money.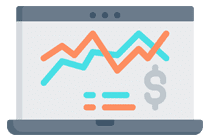 Our Solution
Using our cloud based accounting system you can login online to access your financial information from anywhere, anytime.
Starting at $99/month
What's Included
Setting up your books and online portal
Entering your transactions
Government remittances
Software updates and training
Bank and credit card reconciliations
Training & support
Monthly bookkeeping
Income statements & balance sheets
Year-end financial statements